It's Morndas, I'm bored, let's have some more made up news and carefully thought out things about orcs in general...
So, Orsinium, eh? No idea why you're all so jittery about that. A zone full of orcish things, surprisingly most of 'em destroyed (or for the ones familiar to orcs, not that surprising at all), lots of bears, some of them undead (yikes), and, probably worst, lots of orcs, everywhere. And you seriously want to see that.
Well, if you're an orc, then yes, I can understand it to some degree. For the rest of you, I hope you have spent enough CP in the yellow constellation tree. In case you're wondering, there's a perk for "diminishing sensitivity to smell". Kidding. Can't be that bad. Or worse than living in a cave with an most of the time water avoiding orc.
Speaking of which, of course she'll want to adopt all those cuddly bear cubs out there, like this poor fellow here on the left. I'm not even sure, is this allowed? Animal rights and stuff? Well, of course it wouldn't starve to death like all those other polar bears in future. But it will suffer terribly from suffocating, rip-crunching orc-hugs. If it's a lucky one, it's deaf. You never heard my orc sing, did you? Trust me, not easy to forget. Also not easy to endure without turning her into a flaming ball of...err...flames. Could work against the smell, at least. Have to think about this...
I also have to warn this poor guy there at the right side, because she'll probably want to adopt him too. If it's his lucky day. If not, she'll probably wants to marry him. Which on the other hand would take a great burden from good old Skordo, whom she's stalking for ages now. Bet by now he's even too afraid to enter Coldharbour.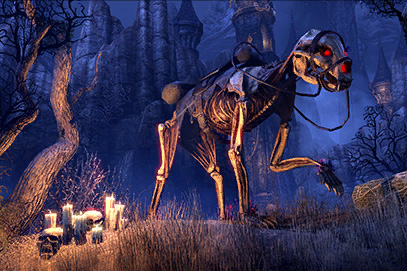 Of course there will be new mounts too, and of course my orc will want all of them. No idea why anyone would want to ride (or, gods beware, hug 'em) a bony skeleton bear or a rotting horse, but to each their own...And of course you already heard about the fabulous new orc surprise nodes, I'm sure we're all going to love the thrill of hunting them.
Oh, and I absolutely can't wait to see all those male orcs wearing Redguard Female High costumes...
Some daedric creature is squeaking something about "you" and "work" for a while now, really no idea what it wants, but I think I'll just give it my usual response to squeaking things: flaming fireballs. Of doom.
...See ya in Orsinium...