Since there weren't any real News for something like eternity (or 3 months), let's make some up. Oh, excellent idea! Yeah, I know, I know. I'm always having excellent ideas. Now, let's begin, shall we.
Shocking observations first, Khalatah isn't human at all.
Well, that's probably not that shocking, the unfriendly ugly wench always seemed to be more like a conjured mess than a normal female, so, surprise, she turns into a harvester at night. Totally understandable why that husband of hers left her years ago. Or maybe he didn't leave her at all, there's an alarming amount of reports of missing customers from the Daggerfall market district. Well, don't say I didn't warn you...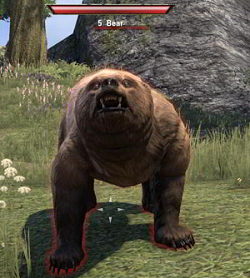 Smashing News number two, since the orc heard orcs in general are known for taming bears and riding on 'em, she desperately tries to tame one too. Mr. Fuzzy so far seems unimpressed.
Regarding mounts and new things to come to Tamriel, there's rumors you'll be able to craft glass armor in the future. Unfortunately the only region malachite (spawn chance around 0.0009%) can be obtained is one of the moons, which you'll be only be able to reach on a flying unicorndragon obscenity (oh, Wen will love that one...). You can buy 'em on every 26th new moon, for about 6 hours, in a Crown store near you. Very limited, exclusive, expensive, but will make you feel oh-so-special. Of course you will need to buy flying lessons too. Or you're a skilled mage and can open portals at will. No? Thought so. It's the Crown store for you then.
Another observation I made, there seems to be more and more cases of aestivation around (lovely illustrated picture on the side for the simple-minded). It's characterized by inactivity and a lowered metabolic rate, that is entered in response to high temperatures and arid conditions. Normally mostly invertebrates are aestivating, but I'm not too surprised some mer and men got hit by it too. You can prevent getting infected by traveling to colder regions. Also teaming up with your friends and hitting random unlucky creatures helps a lot. Speaking of colder regions, we will be in Eastmarch this evening again, for some nice fishing, talking, and vexing orcs, so join us if you like.
Last, there's still this lottery thingy going on, lucky winner this week will have to marry me. Nah. Kidding. 8 times is enough, thank you very much. But there will be a lottery this week, so buy your tickets, or some daedra will eat all your insect parts.
Totally out of context, a roboter killed a worker on Monday, and a dolphin broke both ankles of some female, so, the signs are there, repent, the end is nigh. Or at least my retirement.
And I really like that picture.
Still there? Must be more bored than me...
Fair winds,
your favourite old mage